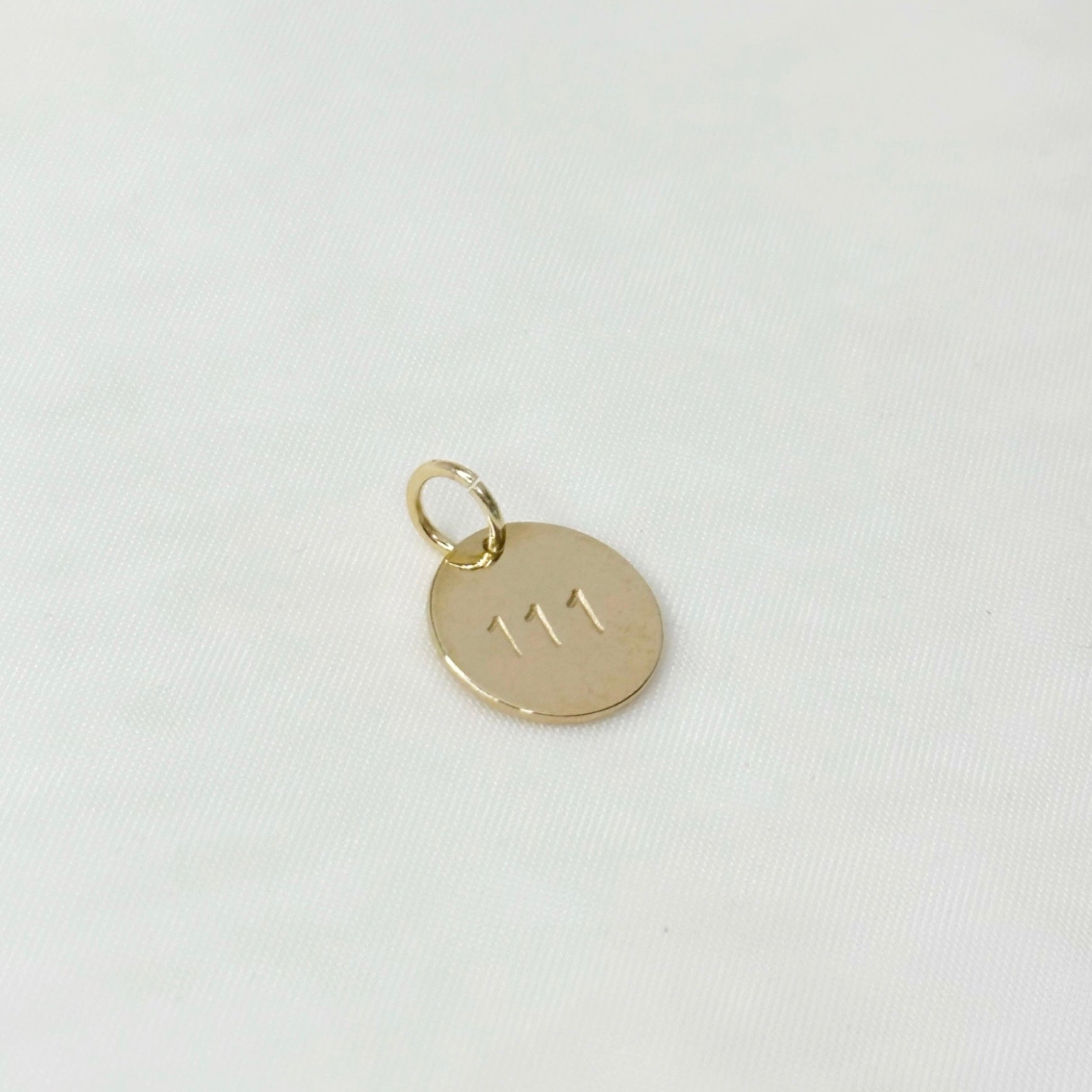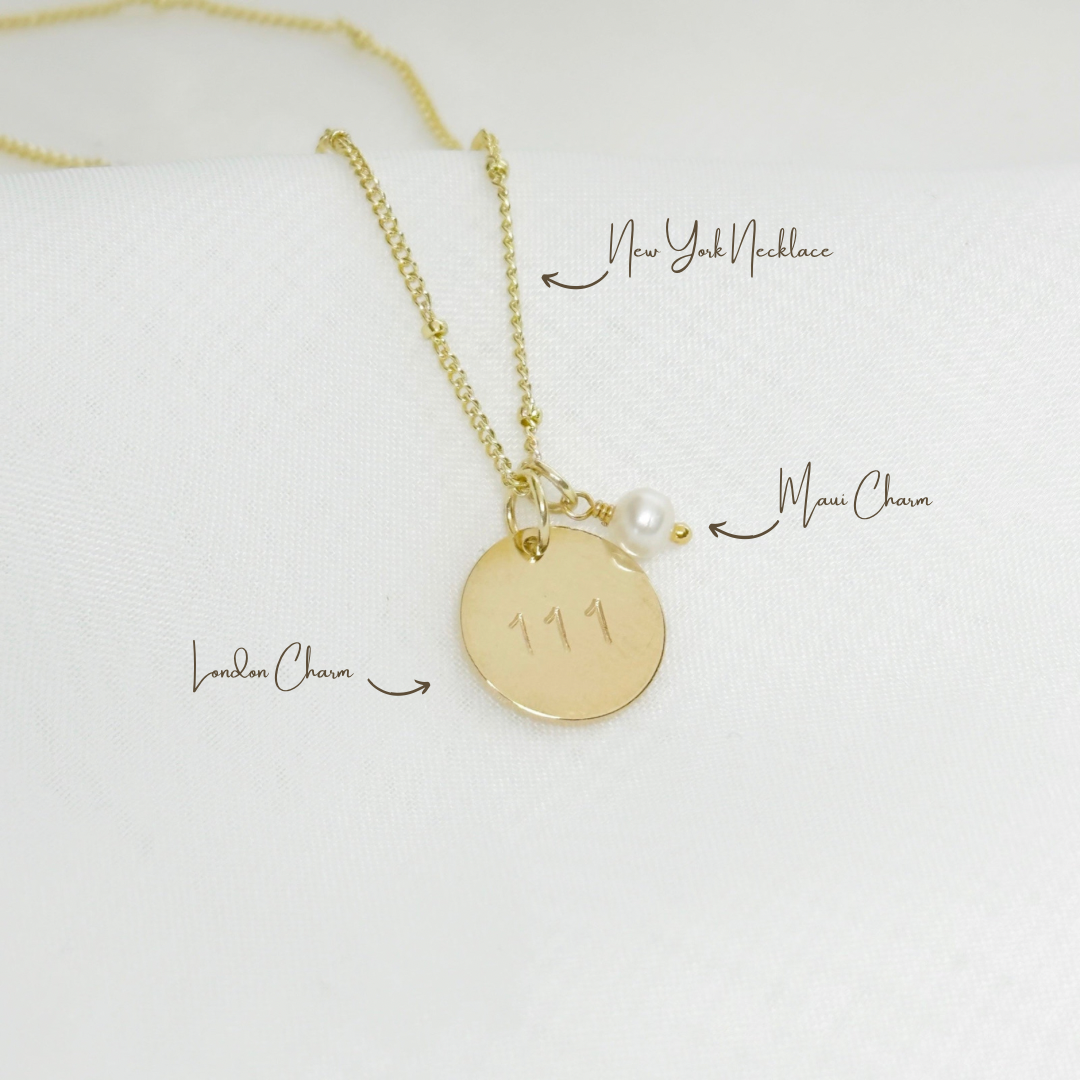 London Angel Number Personalised Charm
Description
Shipping
Packaging
Care Tips
Materials
Bring out the minimalist in you with our London Angel Number Charm. An Angel number is a sequence of numbers which are a sign from the divine that you are on the right path, part of what makes them so magical is that they appear in the most ordinary places but have such significant meaning. 
♡ Handstamped
♡ 14K Gold Plated
♡ Water Resistant
♡ 1x Letter Charm, Necklace and Maui Pearl Sold Seperately 
*Please note this charm only fits on selected Chains and Earrings. Please check descriptions of products you want to pair to confirm if they are compatible 
♡ 000
New Opportunities- when you witness zero in a sequence this could be a sign of a fresh start which means you can create whatever your heart desires 
♡ 111
Manifestation - One is a powerful manifestation figure, if you come across this angel number take the opportunity to make a wish or set intentions
♡ 222
Balance - Two represents trust and alignment. Seeing this angel number could mean that someone above is helping you get to where you are destined to be
♡ 333
Creativity - Three is a sign that you have an opportunity to add your talents and unique abilities to a situation. By using your gifts you will find value and abundance in life
♡ 444
Stabilization - Four suggests that you are grounding and rooting something that's truely built to last. 


♡ 555
Change - Five suggests major chances could be on the horizon. If your feeling stuck or down seeing this angle number could signify a massive shift. It also suggests you are on the right path 
♡ 666
Fate - Six can be a feared angel number but it can actually be a gentle number. It's nature can be supportive and compassionate it is a reminder to treat yourself with kindness and understanding 
♡ 777
Luck - Seven means that luck and good fortune could be on its way especially financially. This angel number invites you to branch out and explore new possibilities outside of your comfort zone
♡ 888
Spiritual - Eight could mean a connection to loved ones from the afterlife who are supporting you 
♡ 999
Endings - Nine is a sign that a chapter is coming to an end and new beginnings are on the horizon. This is an excellent time to step out of your comfort zone and explore new things 
Our jewellery is handmade so can take up to 3 working days to create and dispatch
CHRISTMAS CUT OFF DATES:
Standard Shipping -
NSW, VIC, QLD, ACT, SA, TAS - order before the 16th December
WA, NT - order before 12th December
Express Shipping -
NSW, VIC, QLD, ACT, SA, TAS - order before the 19th December
WA, NT - order before 17th December
Regular Australia Post shipping times
♡ Standard Post: 3-7 working days
♡ Express Post: 2-5 working days

Australia post time are just an estimate and may take longer then expected.
All of our items are carefully packed into a white jewellery box topped with a delicate white satin bow or a soft ivory suede pouch. Our shipping bags are Eco friendly, recycled, and compostable bags. We also include a soft cleaning cloth along with jewellery care tips to keep your gorgeous pieces looking shiny and new. 
 Care Tips:
♡ Salt water and Chlorine should be avoided at all times
♡ Keep your jewellery away from perfumes moisturisers and other harsh chemicals
♡ Avoid wearing jewellery when doing heavy exercise/sweating excessively
♡ Store away from moisture
♡ Avoid prolonged exposure to water
Please note all our pearls are real natural pearls so size and shape may vary slightly from piece to piece, although we try our best to keep them as similar as possible
Our Jewellery is Handcrafted with love and positive energy but each piece is unique and as much as we try to make everything perfect there may be minor imperfections. The hand stamping process can leave slight marking on the back of the pendant from the pressure used to stamp the letter, this is normal and not a fault of our products
Our products are water resistant although all gold, silver and polished rhodium filled/plated products are prone to tarnishing over time if not cared for properly. We pride ourselves in crafting our jewellery from the best-handpicked materials and ask that you follow our care tips to prevent any tarnishing or discolouring.
London Angel Number Personalised Charm
Handcrafted in Australia
Handcrafted in our little Sydney Studio
Custom Orders
Message us with any custom request and well do our best to make you the perfect piece
Free Shipping
Get free express shipping for all orders over $99
Quality Materials
All our products are dipped in either 14k gold, sterling silver or polished rhodium with a water resistant coating
Introducing
Our Packaging
Inside your postage bag you'll find your jewellery perfectly gift wrapped in our white jewellery box or suede pouch along with jewellery care tips, and a soft cleaning cloth to keep your pieces looking shiny and new
Introducing
Our Studio
Our little Studio is based in Sydney, Australia. All of our products are made, packaged and shipped from our studio